Not all managed IT service providers (MSPs) are created equal. At first glance, most MSPs offer a similar range of services but differences appear once you get into the details of their service level agreements (SLAs) and their references.
Further, an MSP that works great for another company may not be best-suited for your company's needs. This is why it's important to evaluate your requirements and determine your expectations for the partnership before starting your search. As you search, you might consider looking for these characteristics: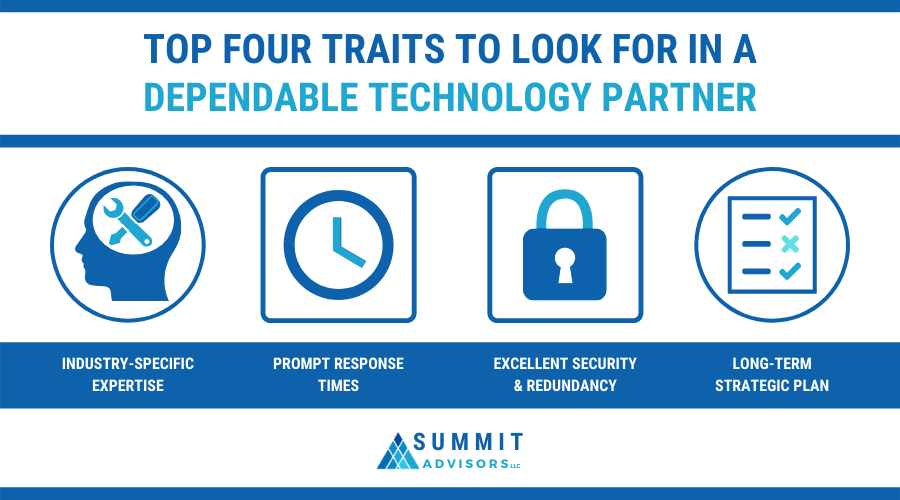 #1. Industry-specific expertise
Some MSPs try to be everything to everyone. While larger technology companies might be perfectly well-equipped to serve a wide variety of clients, smaller ones are often highly specialized, working only with organizations in certain industries. Regardless of which sort of company you choose to work with, industry-specific expertise is essential.
Different industries face unique challenges and have varying opportunities. For example, a healthcare provider cannot risk putting patient data in the hands of a technology provider that isn't HIPAA-compliant. If a potential MSP claims to have expertise in your industry, be sure to ask them to prove it with the right references.
#2. Prompt response times
IT downtime is the single biggest killer of workplace productivity, and the costs of unscheduled downtime are only increasing as businesses become more reliant on technology. To reduce downtime, many companies tap into the scalable and proactive support offered by MSPs.
Prompt response times are critical to the continued development of your business. A reliable MSP should be available 24/7/365 to handle your support requests. These critical parameters should be clearly stated in the provider's SLA, but it's always good to verify their track record with other clients.
#3. Excellent security and redundancy
One of the worst things that can possibly happen when outsourcing your IT to an MSP is having them lose all your data due to a data breach or system failure. While there's no such thing as a system that's completely impervious to harm, you'll want a provider that has an impeccable track record when it comes to security, privacy, and redundancy.
Redundancy is especially important since it exponentially improves the safety of your data by protecting it from things like human error, hardware failures, and ransomware attacks. Every MSP should be completely transparent about what redundancies they offer, including where your data is stored, and what controls are in place to keep it safe.
#4. Long-term strategic planning
An MSP isn't a vendor in the traditional sense. You don't just call them up one day, buy a few products and services, and then be done with it. Rather, a good MSP is a long-term strategic partner with a vested interest in helping you align technology with your business goals. The last thing you want is for every call to start sounding like a sales call. Always be wary of potential technology partners that seem overly enthusiastic to cross-sell or upsell. Every consultation should have actionable advice relevant to the unique needs of your business.
Moreover, partnering with an MSP shouldn't have to mean entirely doing away with your in-house IT team. The best MSPs are willing to augment existing capabilities, not only replace them entirely.
Summit Advisors provides proactive solutions to drive a more efficient and profitable business. Contact us today to schedule a free assessment.